My Panel – manage everything from one place
My Panel has been specially developed for you and combines the best aspects of design and functionality for managing your subscribers: The wide range of configuration options surpasses those of conventional management interfaces (hosting control panels), and the modern, visually appealing design makes it easy to find your way around – even for individuals lacking technical expertise.
A single login for everything
My Panel from Hoststar requires only one login for email addresses, domain administration, status reports and Cloud access. My Panel combines all features in a single place.
All in perfect harmony
My Panel is as individual as your subscription. You see only the menu items you need for the packages and services included in your subscription.
Managing users
Update your user details and manage users for FTP access or email accounts. My Panel lets you easily create, modify and delete users.
Direct access
My Panel gives you direct access to all of your data and services: the files stored in your Cloud, the data for your hosting account via FTP or emails in Webmail.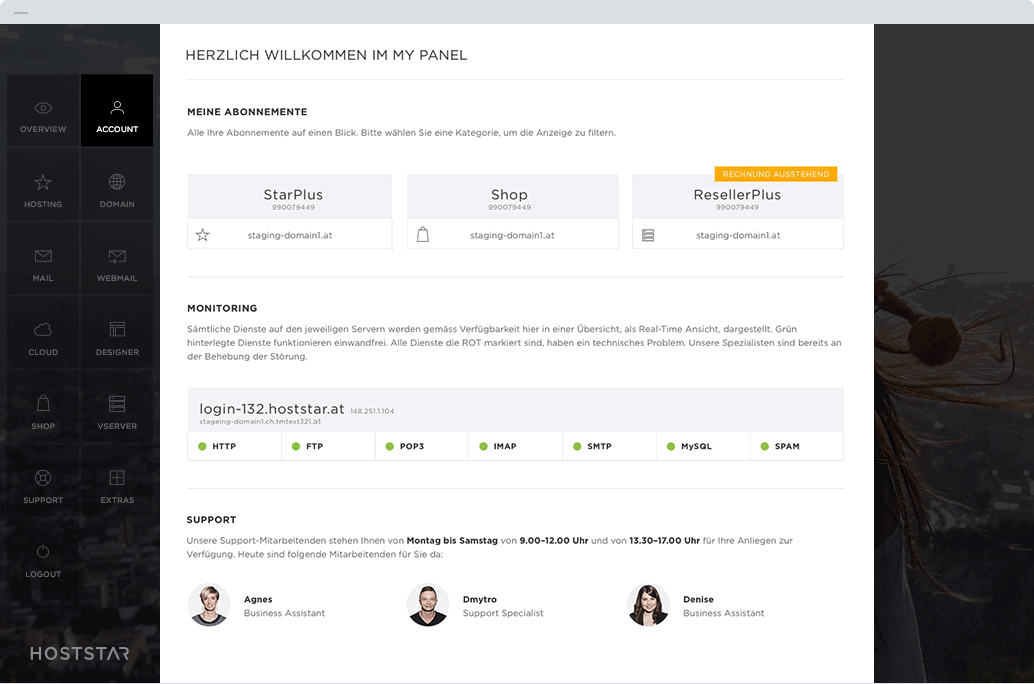 One cockpit for everything
Gone are the days when you needed a separate address and login details for each area. My Panel combines all features in one place: email accounts, databases, user information, domains, the Cloud and many other services can be accessed centrally from a clearly arranged menu.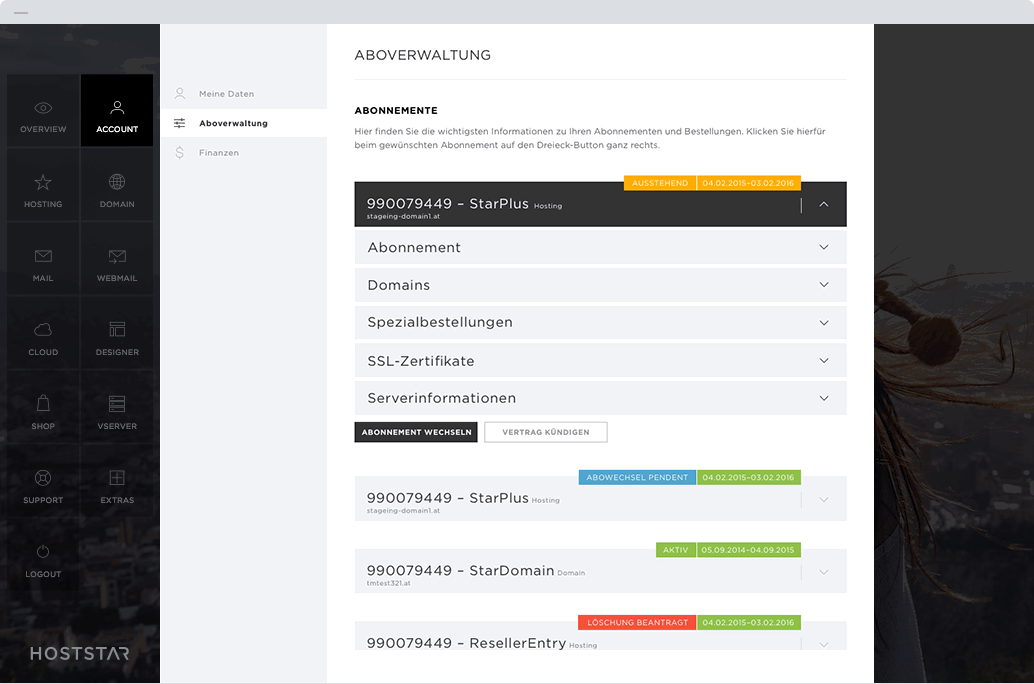 Always the optimum display
In addition to our main product packages, we offer several upgrades as well. However, My Panel shows only the services you have purchased so that you can always keep track of things and efficiently manage your account.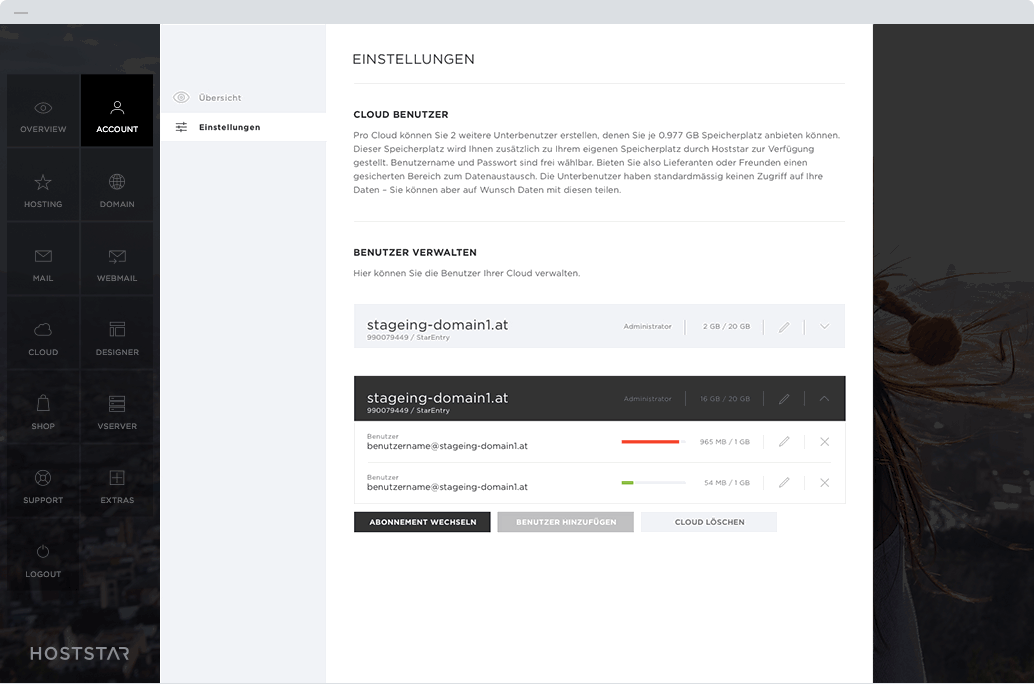 Managing users
My Panel provides the ideal user administration interface: Create users for the Cloud module, FTP access or in the form of new email accounts. Create, edit or delete users however you want and with just a few mouse clicks.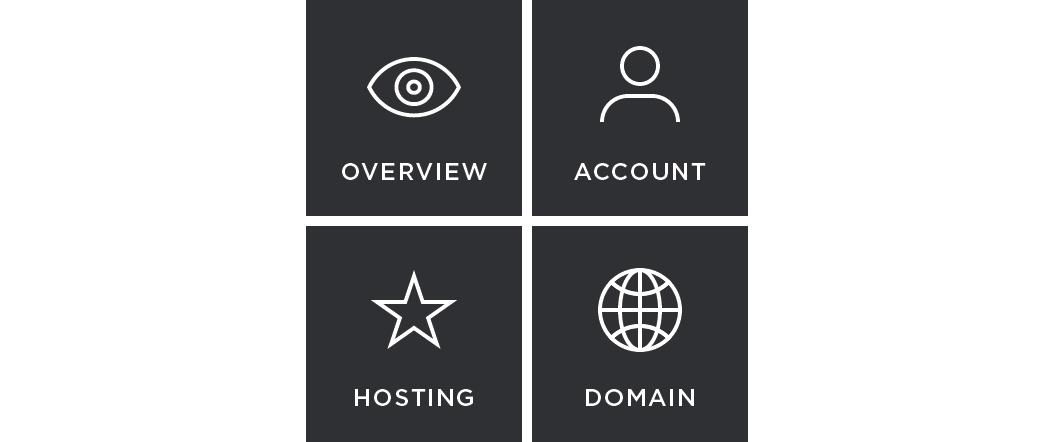 Invoices and personal information
Your personal information is always available in My Panel. Change your address or view your invoices. Outstanding invoices can be paid directly online by credit card. The products overview shows you which services you have purchased and their current status.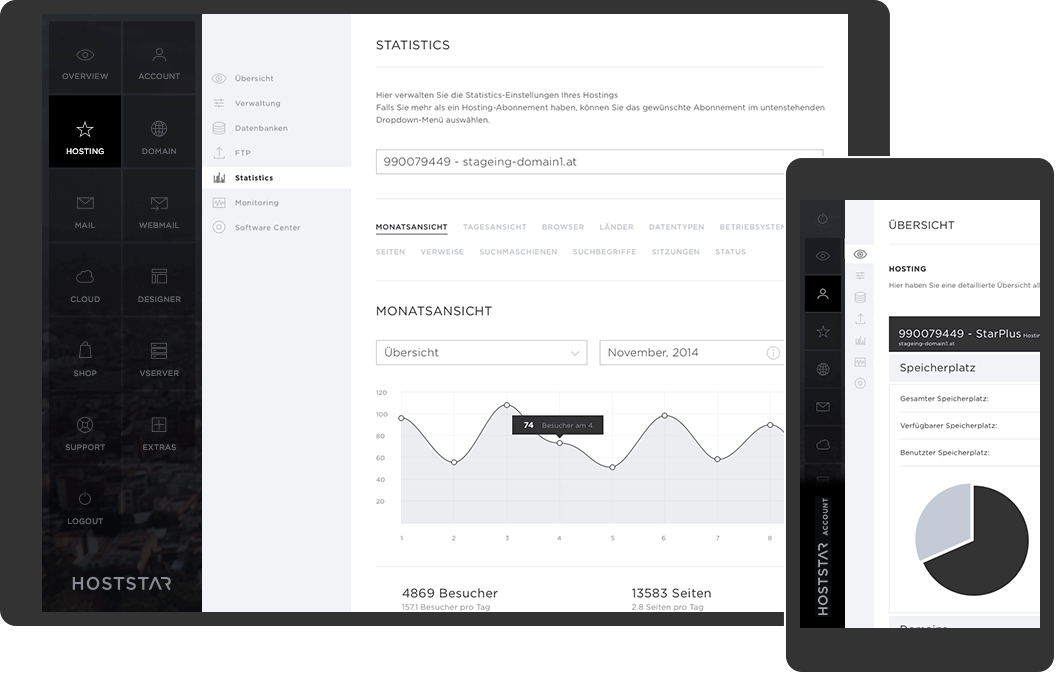 Access while on the move
You can also manage your data in My Panel from smartphones and tablets. Thanks to the responsive design, My Panel is displayed perfectly on any device. Enjoy the independence this gives you.
Straightforward domain administration
My Panel provides a clearly organised list of domains sorted alphabetically or by group. You can renew, cancel or change them with the click of a mouse. This helps you keep track of things even if you have many domains.
Convenient single sign-on
My Panel works with what is known as a single sign-on system: Once you have logged in, you can use My Panel to access all services such as the Cloud, Web FTP or your email accounts – without having to enter your user name and password again.