Add post
You can write posts (blog articles) at any time and publish them straight away or later as you prefer.
After logging into Designer, follow these steps:
1. Navigate
You begin on the home page of Designer's editor and are thus in the Site editor view. Click left on the menu item Blog.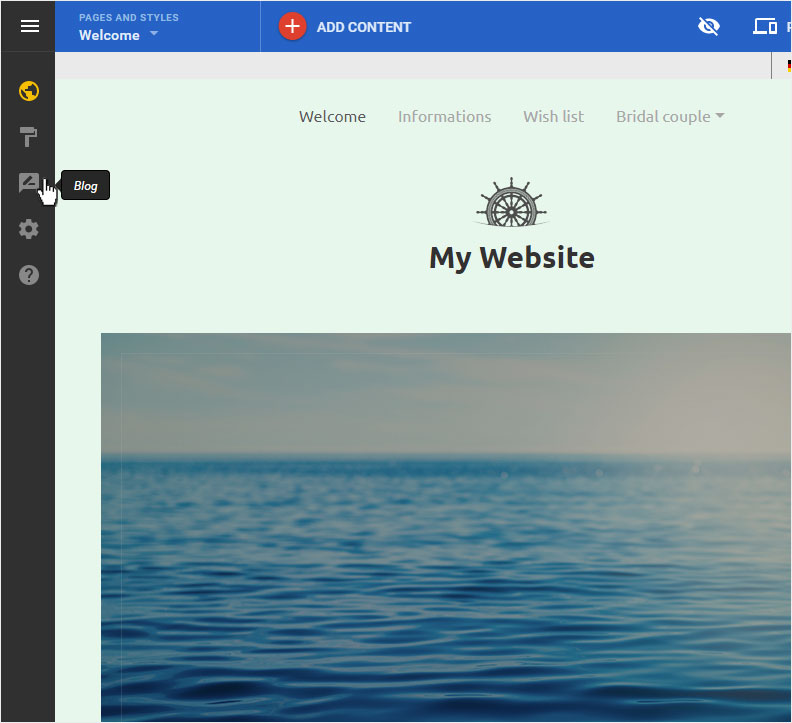 2. Blog overview
Here you see the Posts page of the Blog. If you haven't created any blog posts yet, the overview will be empty. Now click on Add post or on the big red + button.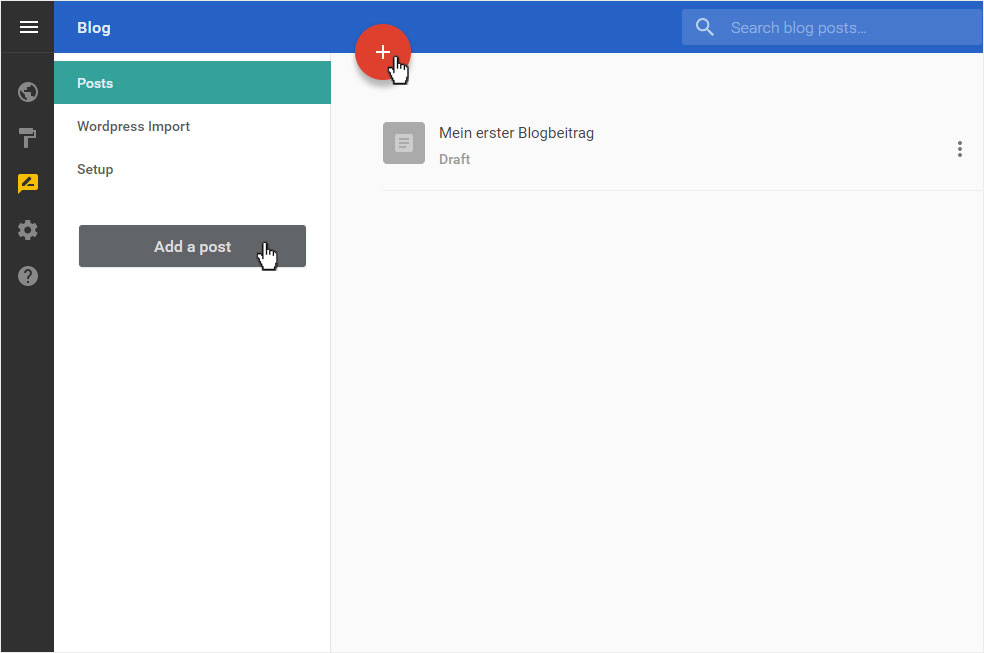 3. Create post
Enter a title for your post in the Post title text field.
In the text field below you can insert the content of your post. There are several formatting and layout tools situated above the text field for polishing your blog post's appearance (e.g. B for bold).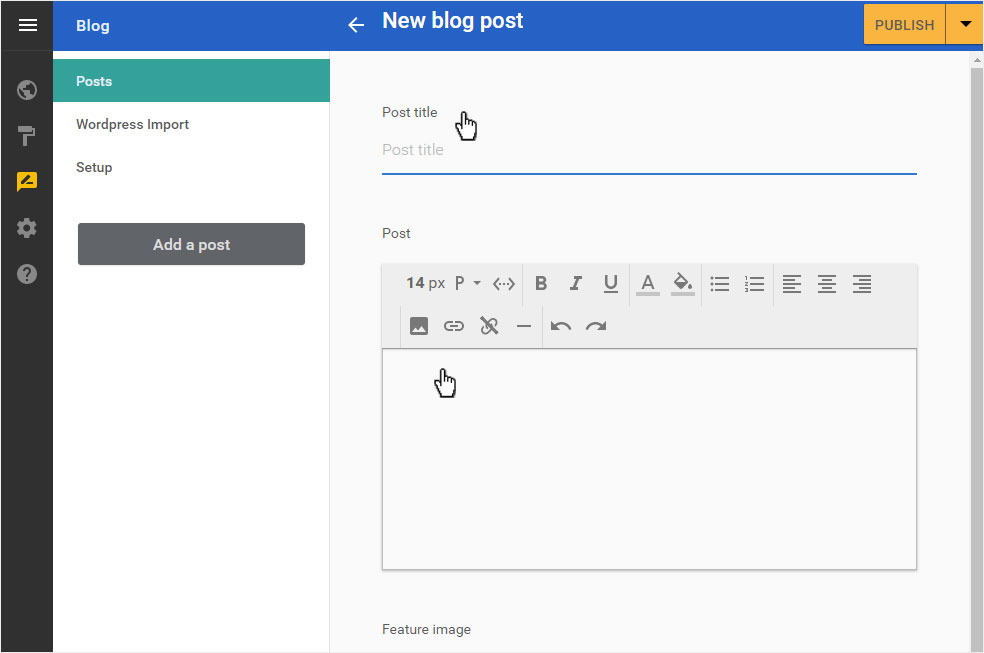 By clicking on the arrow-symbol next to PUBLISH you can choose whether you want to save the already collected data as Draft or directly Publish.
During creation, the data is automatically backed up again and again (see note above).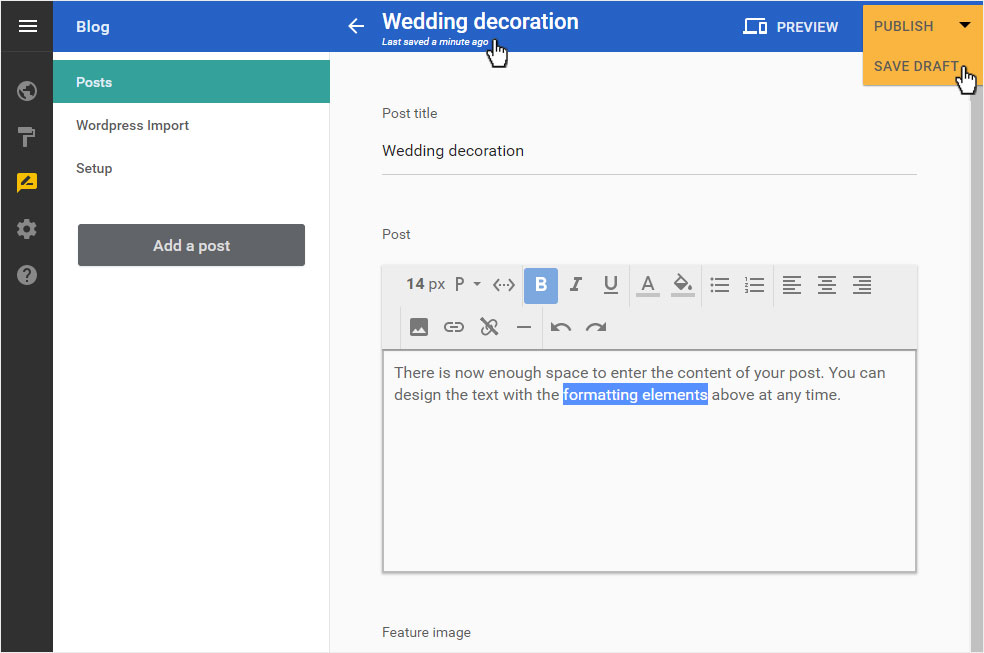 If you scroll down a bit, you will see a space where you can add details about your post.
Add a main image for your post under Feature image.
Add a category to your post under Category. Add a new category by clicking the arrow icon and then Add new.
Enter individual keywords under Tags. Enter the desired words and then press Enter.
Under Post summary you can enter a short information for the overview page of the Blog.
After you have entered a title for the post, a URL is automatically generated under Permalink.
Then click PUBLISH.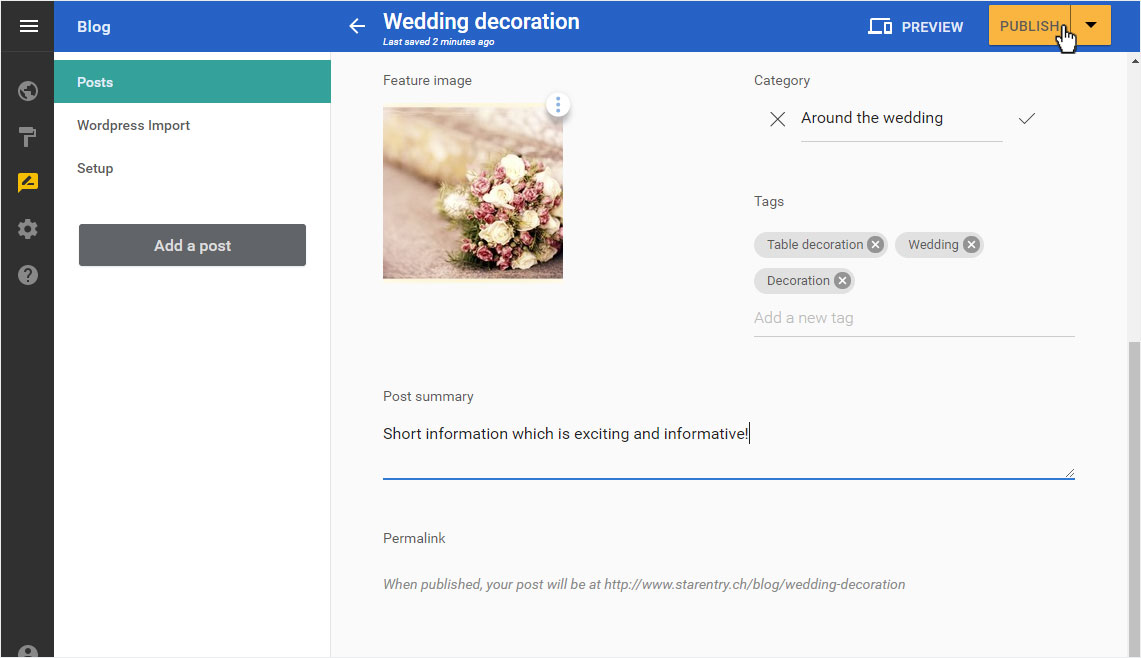 4. Preview
With Preview you can immediately view your post. Simply click on the 3 Point icon and select Preview from the drop-down menu.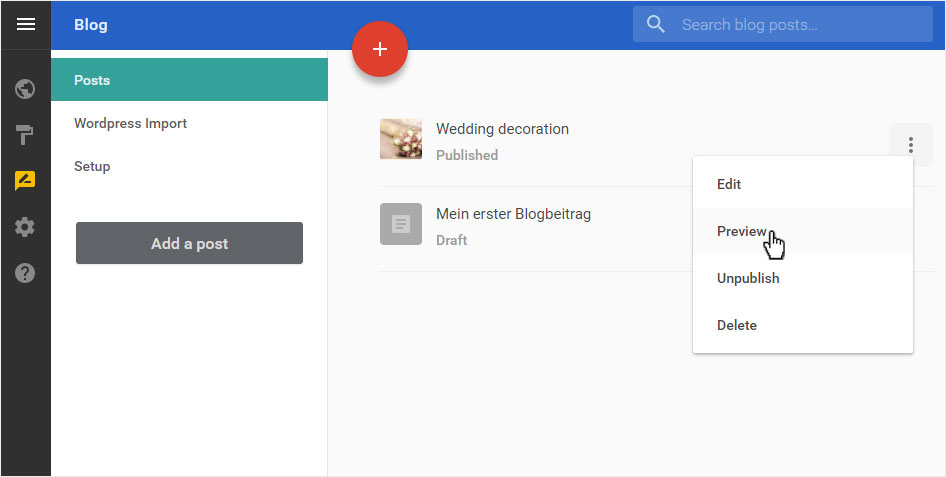 The blog post will be displayed in a new tab.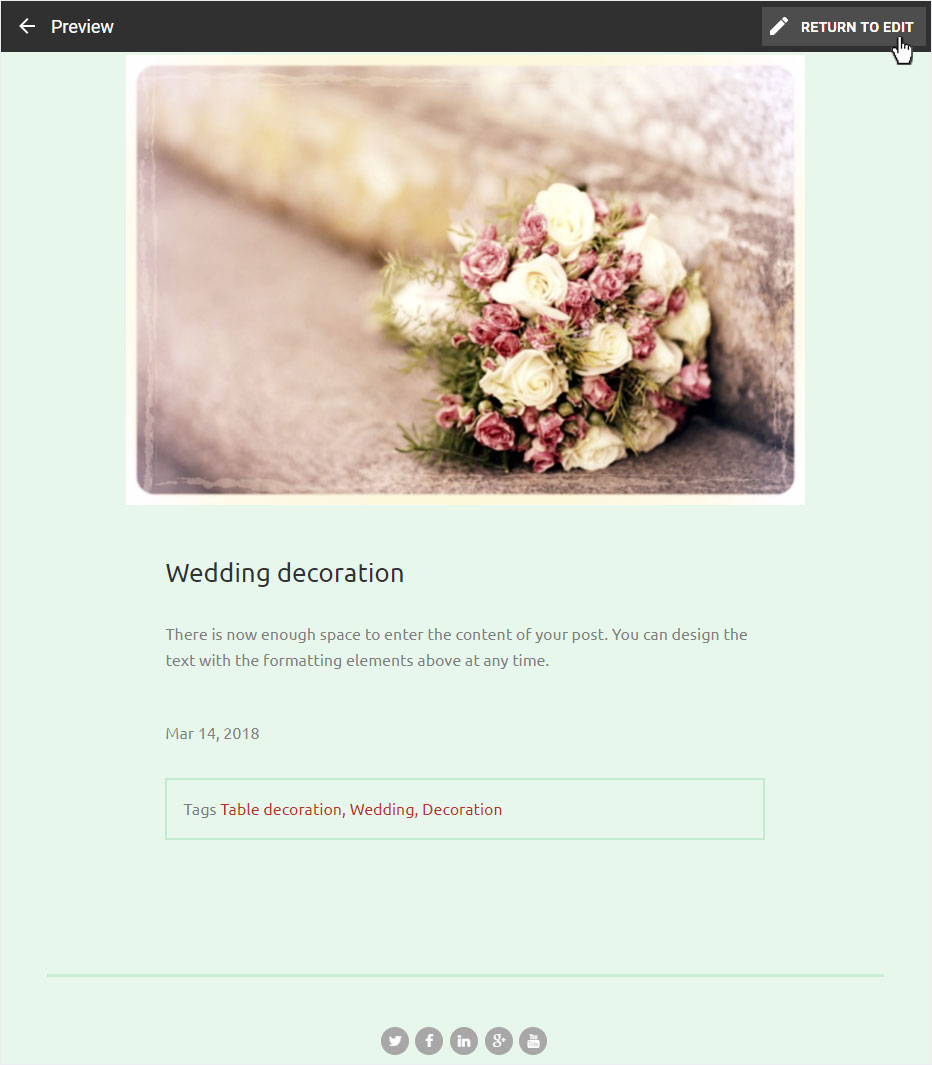 If you want to make any adjustments, go back and click on the 3 points icon and select Edit from the drop-down menu.
Customize your post and save your changes by clicking on PUBLISH.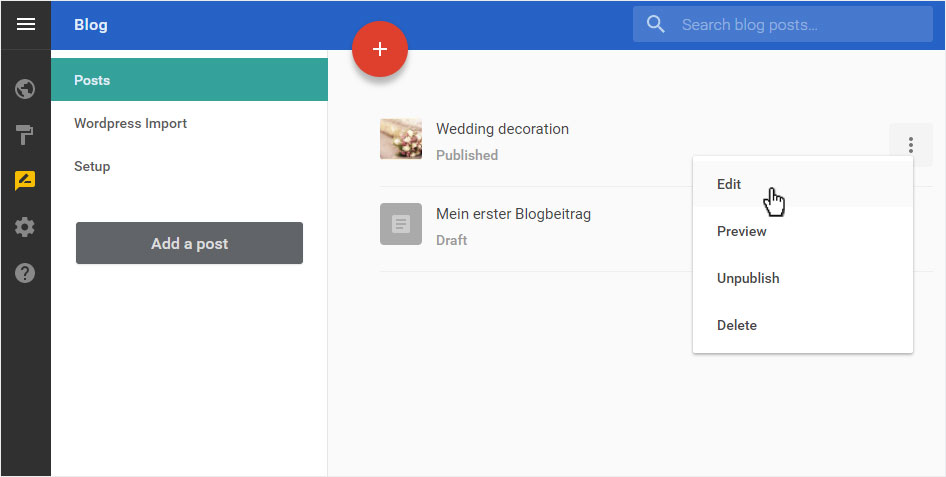 5. Overview of posts
The recently saved post now appears under the Posts menu item. All posts are saved as a draft, meaning that they are not yet published.
To publish or manage this post, follow the instructions in Managing posts.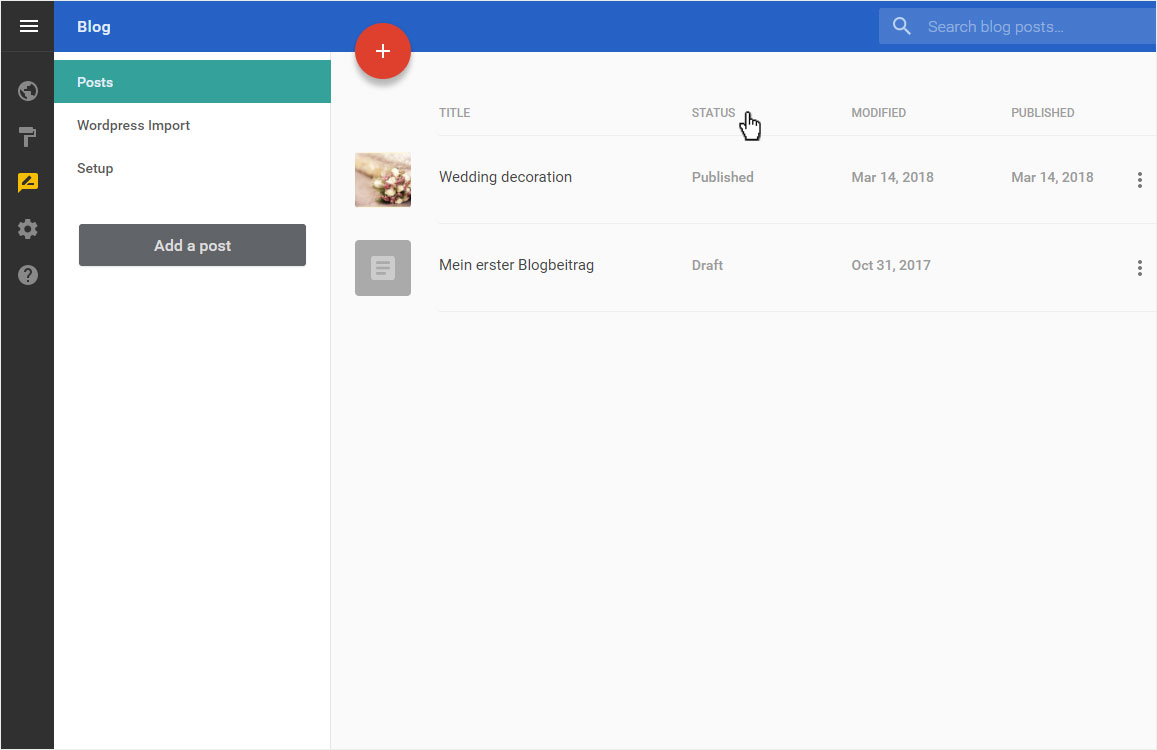 Deactivate blog
Manage blog posts