Website creation
made easy!
Regardless of whether you want to create an online shop, a travel blog, an official homepage for your photo studio or any other presence on the web—your website should match what you offer.
With our website builder, you can create websites that reflect your brand, your image and your individual personality and appeal to your target group. This way, you'll succeed in creating an individual website that stands out from the crowd.
Get started
Hoststar's offers includes the necessary technology, security, and design options. With the simple drag & drop function, you can place elements exactly where they make the biggest impression. You can easily integrate multimedia content such as videos, slideshows, and image tiles in various sizes.
Also included is the Hoststar Pictures database, with millions of free images that you can use at any time to design your website.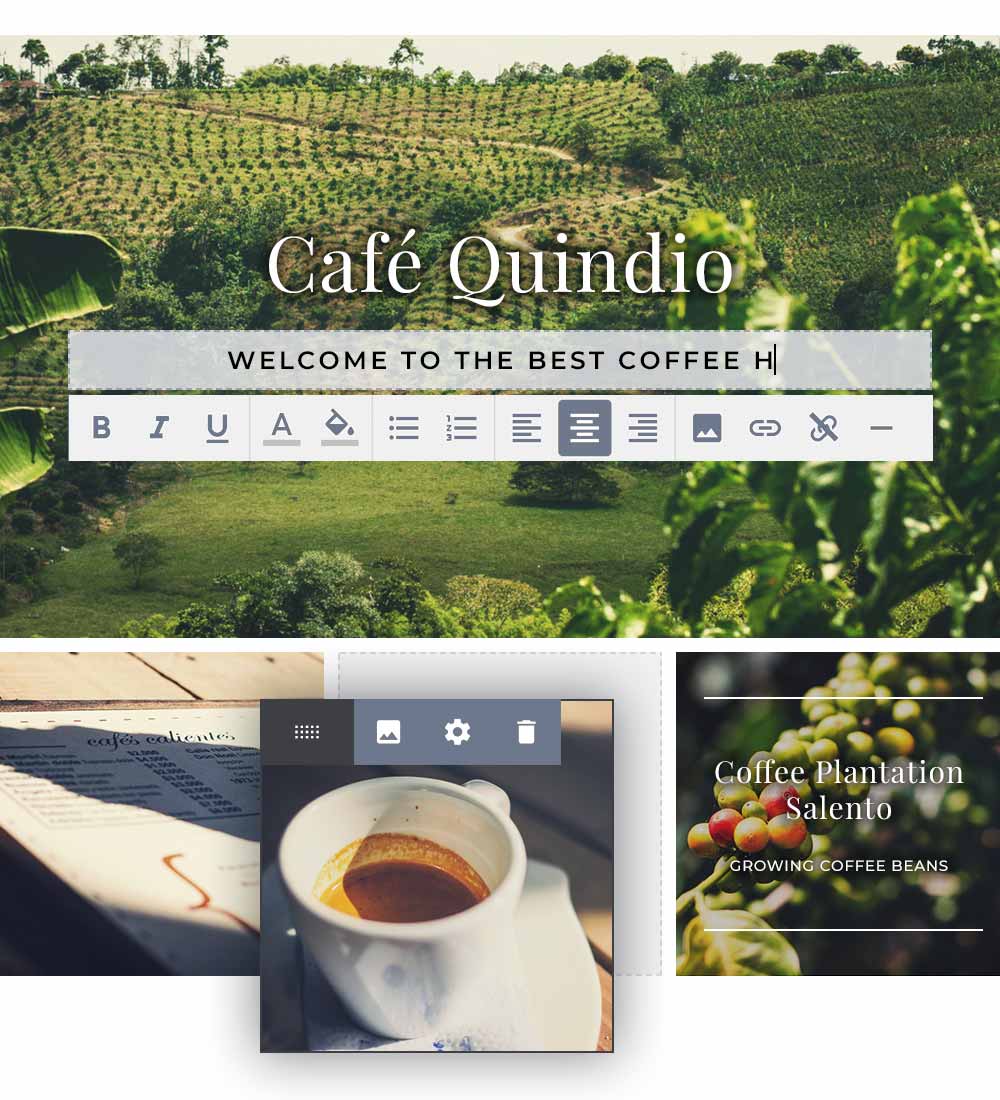 How to create
your own homepage
Create a website—don't you need HTML knowledge? Not with us! After you have chosen your domain, only 3 simple steps separate you from your new website:
Pick the design of your choice and personalize it to your liking.
Customize the structure of your homepage and the rest of the page—and now you can already add text, images, videos and more! If you like, you can also optimize the images directly on the website.
Publish your website using your preferred domain.

That's it—your website is live!
Get started
Create a website:
Costs for our packages
Creating and running your own homepage doesn't cost much. Below you can see the four packages of our hosting offer at a glance. Simply choose your ideal scope of services.

Manage, redesign
and transfer a website
With the Designer, our website builder, you can change all major and minor functions and visual aspects of your website in no time at all. Of course, you can also integrate various content management systems (CMS) such as WordPress, Joomla, Typo3, etc.
If you already run a website but would like to move to Hoststar's hosting, then our Move service is just right for you. We will take care of the transfer for you—quickly and easily.
If you're still not sure whether our Designer is the right thing for you, then use our free 10-day trial version. You can enter your name, e-mail address, and language and then receive access to the test version by e-mail from us. The trial version corresponds to the scope of the StarEntry package.
Ready-Made Designs
High-quality, visually appealing designs for your web presence ensure that you can authentically convey your personality, brand and industry—without programming knowledge. Classic, modern, dark, light, angular or rounded - you're sure to find the right design for your website at Hoststar.
Website builder
You can drag and drop images and multimedia content to the desired location and thus create your new website quickly and conveniently. You can adapt texts, forms, etc. directly in the editor. If you're a beginner and have no programming knowledge, the website builder is ideal for you.
Image Editing
Do you still need to improve your photos? No problem! The Designer from Hoststar provides a fully integrated, intuitive piece of software for image editing. Optimize your pictures directly on your website—without any technical background.
Responsive design
A website that also looks perfect on mobile devices is a standard feature today. The Designer gives you the right tools for this. All designs are 100% compatible with mobile devices and are displayed on them just as well as on a PC or notebook.
Explore unique features
for your website
The Designer from Hoststar offers numerous features with which you create your very own one-of-a-kind website. Thanks to the intuitive and easy to use editor, you can design your website according to your own vision. Everything you need is being provided by our Designer!
E-commerce module
Simply sell your products with the integrated online shop.
Optimized for mobiles
Your homepage will automatically be displayed in the best possible way.
Vast image library
Use our service «Pictures» to find fitting images for your websites.
Multilingual websites
Create multilingual websites with 5, 10 or any amount of languages.
Big selection of designs
Choose from over 150 design templates.
Add a blog
Create a blog in just a few steps.
Social Media
Use different social media buttons to connect with the world!
Free SSL certificates
Benefit from maximum security with FreeSSL at no charge.
Free Support
Our support team is happy to help you, be it for technical or administrative issues. We're there for you!
Create a website:
Successful online with blogs, shops etc.
Our website builder is your tool for your unique website. It has a large selection of designs and features, and you don't need any programming knowledge to be able to create your own website in no time.
Design a website
with your own shop
With our e-commerce modules, you can easily integrate your own shop into your website. With the StarBiz package, you also have a choice of different payment options (credit card, PayPal, etc.). You can easily adapt the colour scheme of your shop, as well as the font etc. to your corporate design.
Create your website now
From Austria to the world:
Create a multilingual website
Depending on the package, you have different languages to choose from. The smallest package, StarMini, offers one language, the larger packages either 5, 10 or an unlimited number of languages. You specify the language you want, define the appearance of the language selection and add your content. The designer does the rest.
Get started
YouTube, Social Media,
Google Maps
The StarEntry, StarBiz and StarPlus packages offer you the possibility to integrate YouTube videos, social media channels and GoogleMaps into your website. You link to your social media presence, easily include new posts on your website and place buttons to invite sharing or liking.
Create your website now
Your personal
contact form
In just a few steps, you can create a personal contact form for your professional website. All enquiries will be sent to you by e-mail so that you can process them quickly and efficiently as well as in an orderly manner.
Create your website now
Other hosting features
When you choose a Hoststar web hosting package, a number of features are automatically included. All the features listed below are completely free of charge.
FAQ: Frequently asked questions
about Hoststar websites
In the following section, we answer some frequently asked questions.
Do I need technical knowledge to create my own website?

No, you don't need advanced technical knowledge to create your website. With our user-friendly website builder, the Designer, you can easily create your website by dragging and dropping elements where you want them. No programming knowledge is required. If you still need assistance, our customer support is always available.

Does Hoststar also offer Responsive Web Design?

Yes, all websites created by Hoststar are optimized for mobile devices. We use responsive web design templates to ensure that your website displays optimally on different screen sizes and devices, such as smartphones and tablets. This way, you can be sure that your visitors have an optimal user experience, regardless of the device they use to visit your site.

How long does it take to create your own website?

Selecting a hosting package, buying and registering a domain and installing a content management system (CMS)—this part is done quickly. Setting up this CMS and filling it with the appropriate content, as well as adapting the layout and installing plug-ins, is the actual time-consuming work. The decisive factor in terms of duration is also whether you place a lot of value on individuality or are satisfied with ready-made themes.

Can I use my own domain or does Hoststar offer domains?

You have both options. You can either transfer your existing domain to Hoststar or register a new domain with us. If you don't have a domain yet, you can use our Domain Check to test whether your domain is still available.

Does Hoststar also support e-commerce functions for online shops?

Yes, Hoststar supports e-commerce functions for online shops. Shop solutions are available with our StarBiz and StarPlus subscriptions through our website builder, the Designer, or can also be added to StarEntry with a CMS like WordPress. With our e-commerce solution you can create a powerful online shop, manage products, accept payments and much more.