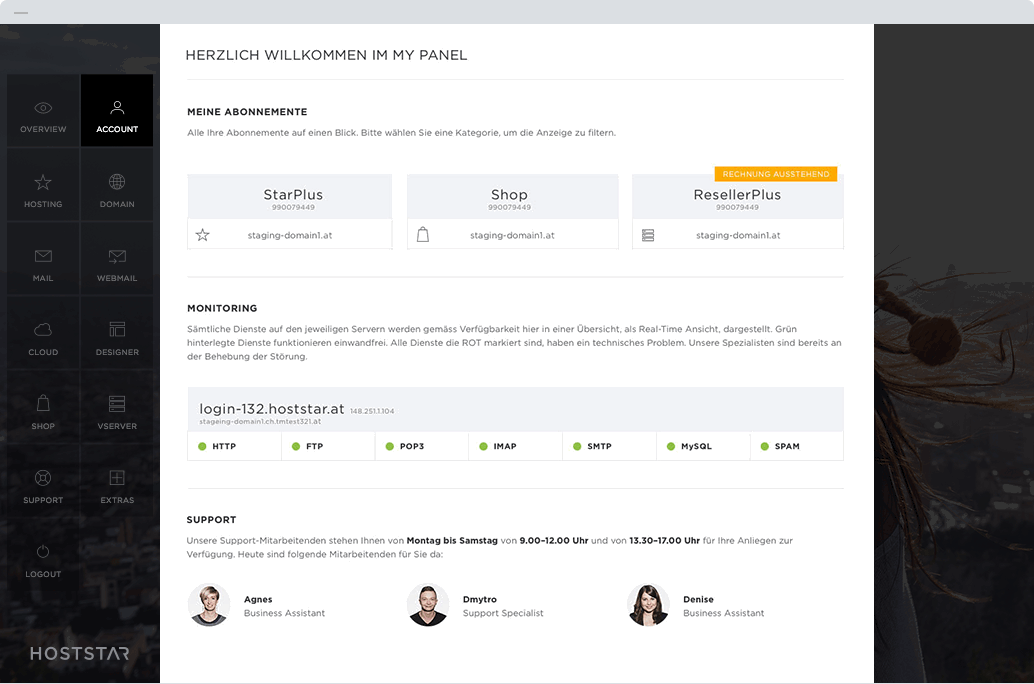 Easy domain administration
A long list of domains can quickly become unmanageable. The modern user interface of the Domain Manager helps organise even the biggest list. Listed clearly and sortable by various attributes, active domains and how long they have been registered are visible at a glance.
Domain Manager
The way to the right domain
Ideas for finding your domain name
If you don't yet have a domain name of your choice or if someone else has already registered it, it's best to start with a brainstorming session. Make a note of the terms that match the content or style of your future website, including any synonyms. You can also add adjectives to the list of terms. This will give you suggestions for your domain name.
Alternative domain spellings
Depending on the domain name, alternative spellings may also make sense. If you use hyphens, you should also register the same domain without hyphens. The same applies to domains with umlauts or other special characters. Otherwise, some potential visitors may not visit your website because they are unable to find and insert these characters.
Choose appropriate domain extensions
With so many possible domain extensions, the choice can be difficult. The .com domain is a classic. Because of its popularity, however, it is often the case that the desired domain is already taken. Luckily, there are other generic domain extensions. If your website has local relevance, you can also choose the .at extension. It is better to avoid using longer domain extensions, unless they exactly match the desired name.
Short domains are better
Choose a short domain name, as this reduces the risk of your visitors making typos. Short domain names are also easier to remember. If your preferred domain name is long, try finding a shorter variant using abbreviations or synonyms.
Check domain availability
If you now have one or more desired domains, you can check them above with our domain checker. Ideally, your desired domain will still be available. The domain checker checks all domain extensions. You may discover a combination that you like that you had not considered before.
Register your chosen domains
If your preferred domain names are still available, you can register them by clicking on 'Buy'. However, some domain extensions cannot be registered freely. In these cases, you will be shown what the domain registration requirements are and how they can be met. You can also purchase additional domains conveniently via My Panel.