400+ domain extensions
A whole world of domains is waiting for you. Choose from 400+ domain extensions – find the perfect domain for you.
Great value for money
.at domains for only EUR 14,90 a year. The same is true for all other domains: less is more. Let our low domain prices convince you.
Migration made easy
Spare yourself multiple logins and manage your domains and hosting from one location. We would be happy to carry out website migration for you with our Move service.
Central administration
In My Panel you have a central and intuitive tool with which to manage all your domains. Whether you have one, 10 or even 100 registered domains; My Panel makes it all easy.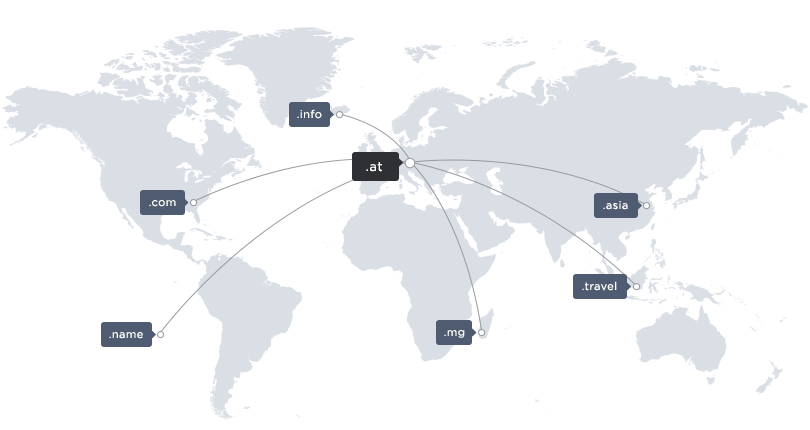 A comprehensive range of domains for you to choose from
The right domain is critical to the success of your website.
In addition to the traditional .com domain extension, there are countless other extensions -the possibilities for creative expression are almost endless. Choose from over 400 domain extensions. Whether you're looking for international extensions like .net or .org, local ones like .at or .li, or one of the many others – register your dream domain today before it is gone!
You can find the entire spectrum of our domain extensions here:
Check the availability of multiple domains at the same time
Enter your desired domain (without extension) into the input field.
Your desired domain

Top-Domains

Promotions

New Domains

Europe

Rest of World

Education

Computer & Technology

Various

E-Commerce

Colors

Finances

Photography & Design

Leisure & Lifestyle

Gastronomie

Commercial & Service

Craft

Real Estate

Art & Music

Luxury

Medical

Fashion & Style

News & Media

People & Social

Politics & Religion

Travel & Tourism

Fun & Entertainment