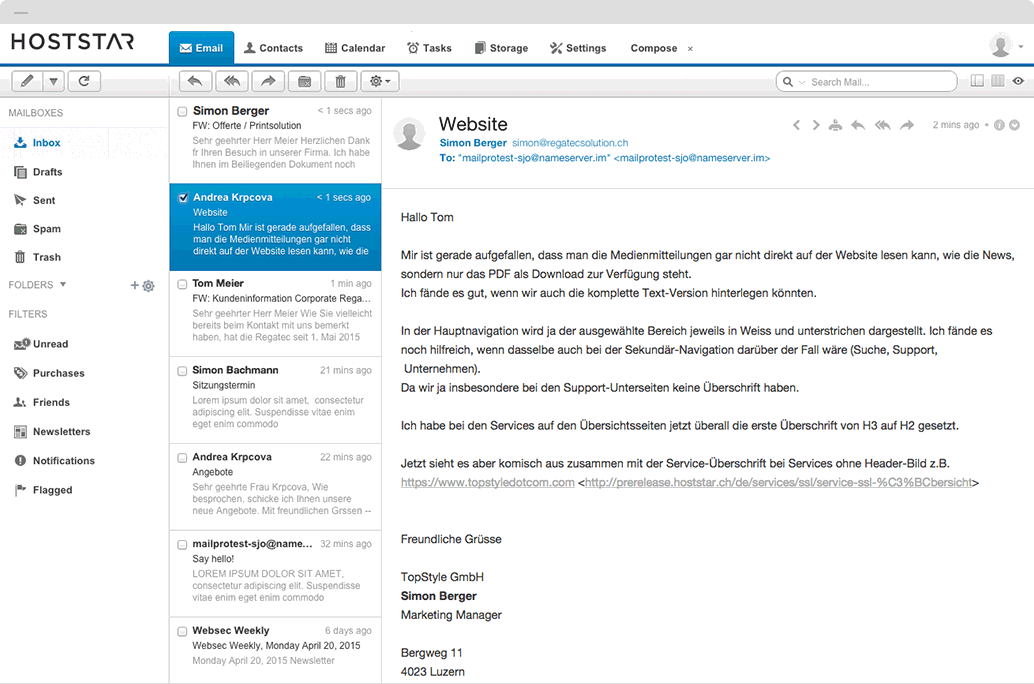 Email convenience from anywhere
The modern, elegant webmail interface can be used with any standard browser. In addition to email, calendar and the address book, it also includes advanced features such as data storage and archive as well as a fast and detailed search feature to find any type of content. SSL encryption ensures data transfer is completely secure, meaning the system is also suitable for handling sensitive business correspondence.
Mobility guaranteed
Thanks to its seamless integration, MailPro can also be used on smartphones and tablets, giving you access to your emails, calendar and contacts even when you're on the move. Thanks to full Exchange ActiveSync support as well as CalDAV and CardDAV functionality, you have the freedom of custom integration on any device.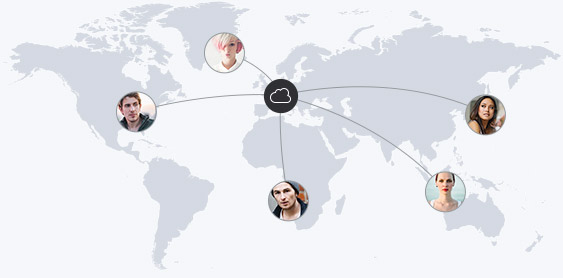 Groupware & Teamwork
The groupware functionality in MailPro makes everything just a bit easier for your team: global address lists simplify the unified management of business contacts. Intuitive sharing of calendars with individuals or user-defined groups makes it possible to plan and manage appointments efficiently in the MailPro webmail interface. A link can be sent that enables files from joint projects to be shared and accessed by all people working on the project.
Calendar
The straightforward calendar in MailPro has everything you need: invitations, recurring appointments, reminders, multiple calendars and seamless integration with Microsoft Outlook 2010/2013 and iOS devices and iCalendar support all for the ultimate in convenience. CalDAV can be integrated into any system to meet your individual needs.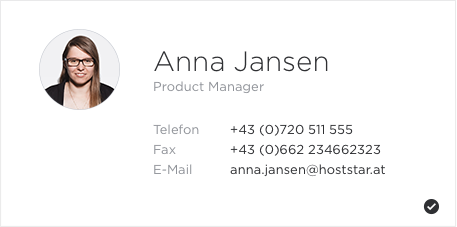 Contact management
The simple and detailed contact editor makes it easier to manage your address book. The auto-remember feature in MailPro memorises the most frequently used recipients and automatically suggests them after entering a few letters. CardDAV makes integration into your preferred email client easy. You can also use vCard to easily share contact details with external users.
Archive
In Austria, business-relevant emails must be archived for a period of several years. The archive feature in MailPro gives you the option of automatically archiving copies of all emails. This archive is operated with separate infrastructure to offer even more security. You can restore the desired emails at the click of a mouse either with your email client or in Webmail.
Data storage
The data storage repository in MailPro lets you save any file you want and store email attachments there directly, which you can also send with the simple click of a mouse. This makes it easier to manage attachments. You can copy files to your computer easily by dragging & dropping them to your data storage repository. You can also integrate this repository as a drive on your own system.