Manual migration
Order process
1. Order MailPro subscription
If you chose Manual migration, follow these steps during the order process: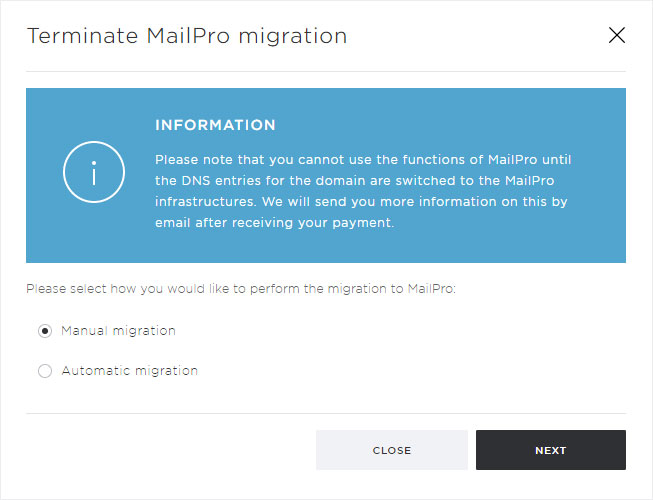 2. Number of MailPro subscriptions
Choose the number of MailPro subscriptions you wish to use for the selected domain.
You can find the range of services for each subscription on our website.
Then click Next.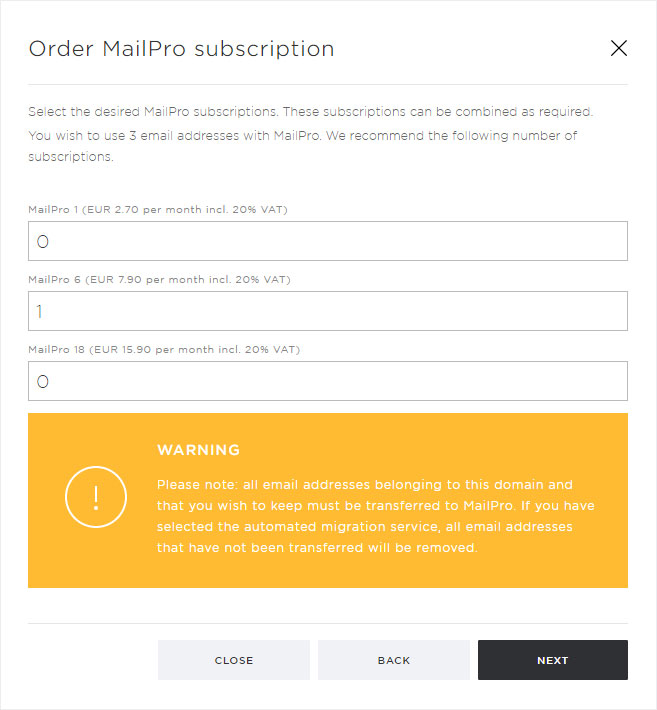 3. Summary of your MailPro order
You will now see a summary of the MailPro services you have chosen with the annual subscription costs.
If you agree with the selection and the mode of migration and wish to send the order, click on Order.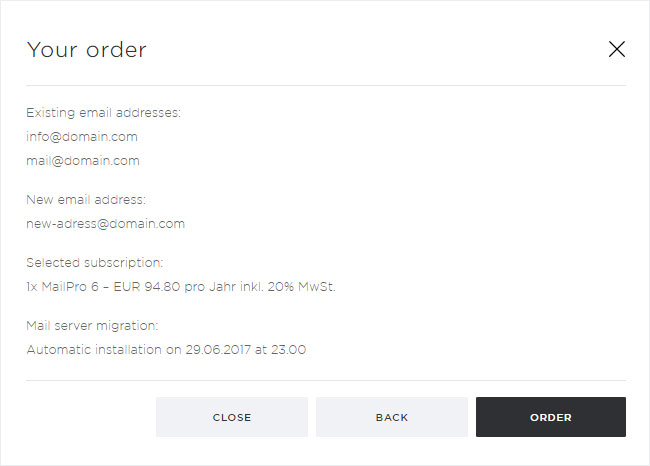 4. Order confirmation
A pop-up window will appear. This will confirm that you have ordered MailPro. You will also receive an invoice for your MailPro subscription by email.
Close the pop-up window by clicking on the Close button.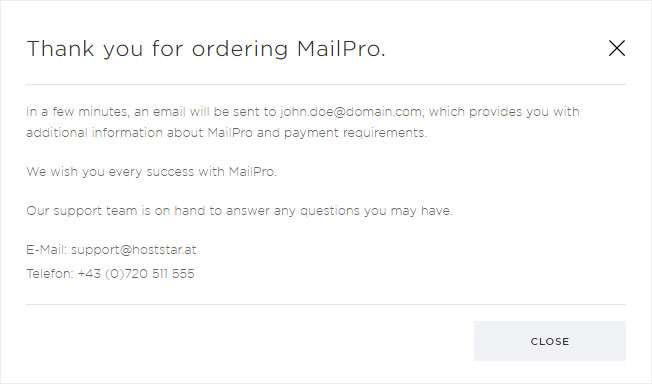 Migrate DNS records for MailPro
Incoming emails for your domain will only be received by the MailPro infrastructure once the DNS migration is complete. A DNS migration usually takes up to 24 hours and will start from the time that this installation confirmation is sent.
If you have chosen manual migration, you must also migrate the MX record for your domain on mailpro.hoststar.at to ensure your mails arrive at the new infrastructure.
If you manage the DNS for the domain through Hoststar, you can change your DNS records by following the instructions below: Manage DNS settings.
If you have only ordered additional licences for the domain that has already been installed, DNS migration is no longer necessary.
Migrate emails
If you would subsequently like to transfer emails from the normal Hoststar mail service to your MailPro subscription, set up the former mailbox via IMAP in your email program.
At the same time, set up a new mailbox on the MailPro-Server via IMAP. You now have the option of copying desired emails via drag & drop into the new mailbox on the MailPro server.
If you run into problems, please contact our Support service.
Delete email addresses
Once you have migrated the DNS records for the domain with which you wish to use MailPro, all previous email addresses for this domain must be deleted.
If not, emails from domains in the same hosting package which use the normal Hoststar mail service will be delivered locally in error and not to the MailPro server.
For example: if you wish to use your domain mailpro.at with MailPro, you must delete all addresses that end with @mailpro.at from My Panel. You can find instructions for this here.
Add subscription
View invoice