We are the first Austrian web host to offer super-fast hosting with NVMe storage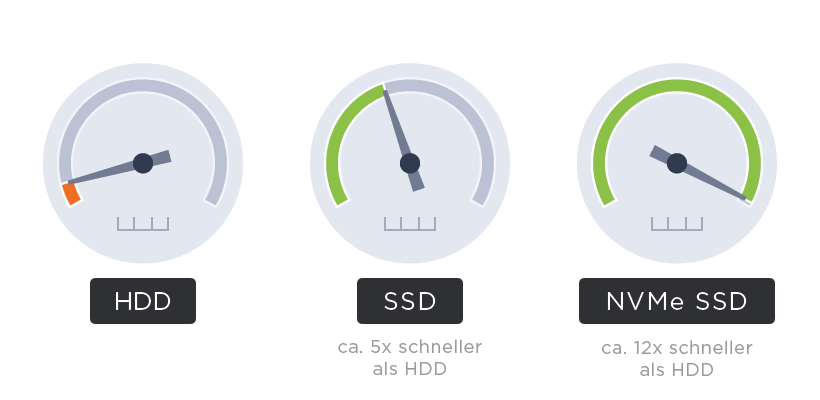 We have renewed our web servers. The new servers offer many advantages and the best website performance at the usual low Hoststar price. With the new server generation, we are igniting the website turbo thanks to NVMe and HTTP/2, among other things.
Super-fast NVMe storage
Our new web servers have much faster data stores. With StarEntry and StarBiz, you can enjoy very fast SSDs (Sold State Disks), and with StarPlus, you can even benefit from the super-fast NVMe disks (Non-Volatile Memory Express disks). We are the first Swiss web hosting provider to offer its hosting customers NVMe disks.
Your website data is thus available much more quickly than with conventional hard drives, which we used with the old server generation. The read times of the SSDs are around five times faster, and those of the NVMe disks are 12 times faster than conventional hard drives. In addition, access times are 20 to 150 times shorter.
HTTP/2 for faster loading times
Another building block that contributes to a higher-performance service is HTTP/2. This is the connection protocol for data exchange between a web server and a web browser. HTTP/2 offers several improvements, allowing website content to load more efficiently and super fast.
Dell branded hardware
Our web servers are from Dell. Your website data is in good hands. The brand manufacturer uses high-quality components, guaranteeing the best performance and server stability.
SSH access for professionals
We now also offer SSH access starting with the StarBiz hosting package. This allows web professionals to establish a secure connection to the web hosting and run various commands via the command line to manage the hosting.
Improved application installation and management
We have also renewed and improved the section for easy installation of web applications. More than 300 applications are now available for 1-click installation. If you install WordPress, you can also benefit from a large selection of themes, one of which you can install simultaneously. The backup function is also new. You can create backups manually, and for your security, we also create backups automatically before you update the respective web software.
New orders now benefit from the new servers. Previous subscriptions will be migrated to the new servers in stages.